Cheat Engine
Download for Windows
Cheat Engine is a software tool that allows users to modify the values in a video game's memory, enabling cheats or unlocking features that are not available in the game by default. It helps a player hack any offline game.
Latest Version: 7.4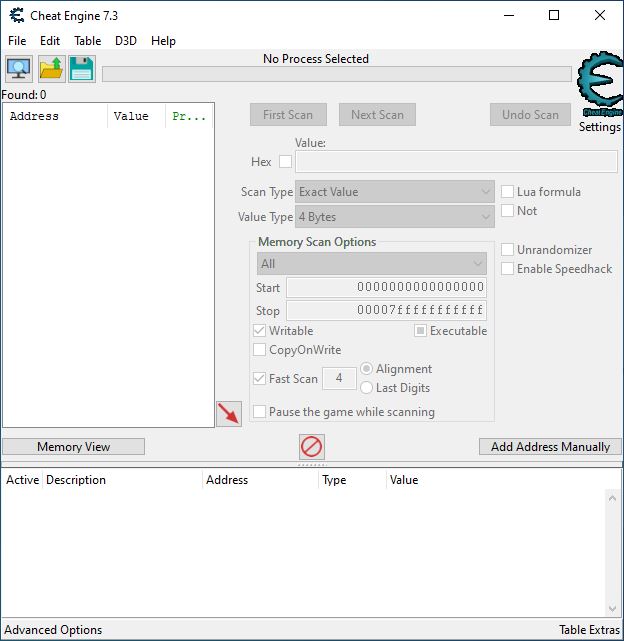 Table Of Contents
Pick which you want to save your time
Description
Cheat Engine for Windows Description
Introduction
Cheat Engine is a popular and powerful tool used for cheating in computer games. It allows users to modify game values, such as health, score, and money, to gain an advantage over other players. Cheat Engine works on Windows operating systems, and is easy to use, making it a popular choice for game cheaters.
Features
Cheat Engine is a memory scanning and debugging tool for Windows that is used to cheat in computer games. Here are some of its features:
Memory Scanner
The memory scanner is one of the key features of Cheat Engine. It scans the memory of your games and finds the values you're looking for, such as health, ammo, or gold. You can then modify these values to your liking, giving you an advantage in online games, or simply making the game easier to play.
Speedhack
The speedhack feature of Cheat Engine allows you to slow down or speed up your games. This can be useful for several reasons, such as when you want to take your time to complete a difficult level, or when you want to speed up an otherwise slow-paced game.
Code Injection
Cheat Engine also includes a code injection feature, which lets you inject your own code into games to modify their behavior. This feature is more advanced and requires a basic understanding of programming, but it provides a powerful way to modify your games in ways you never thought possible.
Advanced Tools
In addition to its core features, Cheat Engine also comes with a range of advanced tools, including a Lua scripting engine, disassembler, and debugger. These tools allow you to delve deeper into the inner workings of your games and make even more advanced modifications.
Safety Considerations
It's important to note that using Cheat Engine to modify games can be considered cheating and may result in your account being banned by the game's developers. Modifying games with Cheat Engine can also be dangerous and may cause your game or computer to crash. Use Cheat Engine at your own risk and only modify games that you own.
How Cheat Engine Works
Cheat Engine works by searching the memory of a running game process for specific values and allowing users to change them. This is known as memory hacking. The software provides a search bar where users can input the desired value and then scan for it in the game's memory. Once the value has been found, Cheat Engine allows users to change it to whatever they like.
Cheat Engine is often used for cheating in online games, but it can also be used for single-player games. This allows users to gain an advantage and make the game easier, or even unlock hidden features.
How to Use Cheat Engine
Using Cheat Engine is straightforward. Simply follow these steps:
Download and install Cheat Engine on your Windows PC.
Launch Cheat Engine and open the game you want to modify.
Select the game process in Cheat Engine's process list.
Use the memory scanner to find the values you want to change.
Modify the values using Cheat Engine's tools.
Enjoy your newly modified game!
Safety and Security
Cheat Engine is a third-party software, so it is important to make sure you download it from a trusted source to avoid any potential security risks. The official website is the safest place to download the software from.
Additionally, some anti-virus programs may flag Cheat Engine as a potential threat, but this is because it is used for modifying game values. To avoid any issues, simply add Cheat Engine to your anti-virus software's exceptions list.
Conclusion
Cheat Engine is an indispensable tool for gamers looking to take their gaming to the next level. With its powerful memory scanner, speedhack, and code injection tools, Cheat Engine lets you modify your games in any way you see fit. Whether you're looking for an advantage in online games or want to have some fun, Cheat Engine is the tool you need.

Cheat Engine System Requirents
Operating System: Windows XP, Vista, 7, 8, 8.1, or 10.
Processor: 1GHz Intel Pentium 4 or equivalent.
Extra Requierments: .NET Framework 4.0 or higher.
File Name
CheatEngine74.exe
VirusTotal Hash Code
6d0e14d66da69c163f824f8fa7d87de3eea41cdbd48c0973de296cf6d2d0fed3
Operating System
Windows XP, Vista, 7, 8, 8.1, or 10.
Date Published
30, Jan 2023
Date Modified
30, Jan 2023
Versions
Check other versions
Alternatives
Also, check the alternatives of Cheat Engine
Currently, no alternatives are available. But we will add some soon. Thank you for staying with us.
Articles
Articles related to Cheat Engine
These are the articles which is writen by us or contributed by other writers
Currently, no articles are available. But we will add some soon. Thank you for staying with us.